You are here:
Home
›
Hoxton Dungeon Suite
Tag Archives | Hoxton Dungeon Suite
Combine your stay at the suite with this great summer treat at Bill's. It is only a short walk away.
The always charming and sometimes a little bit crazy but very sexy and strict Lady Bellatrix is now in the Hoxton Dungeon Suite together with with Dominatrix and fetish model Mistrix Ms. E. The suite became the femdom centre of London. They are available for session today (December 11th) only a few spots left so be quick and show that you are worthy to serve these Goddesses.
Booking was easy and efficient… all emails answered promptly. When we arrived we were shown round by Madame Caramel who was very welcoming and explained all of the facilities.
The whole apartment was spotlessly clean, well laid out and had a huge range of equipment… certainly more than we needed. We were able to play in a relaxed atmosphere and can honestly say we really enjoyed ourselves. We can thoroughly recommend giving the dungeon a try.
MP
If you are attending the Erotic Art Collective exhibition on Saturday 14th June. There will be a chance to join a Private After Party at Hoxton Dungeon Suite.
The suite is a five minute walk away from the exhibition venue, in Hoxton.
HDS parties are always great fun and play is optional. The atmosphere is relaxed and fun play is always the theme of the night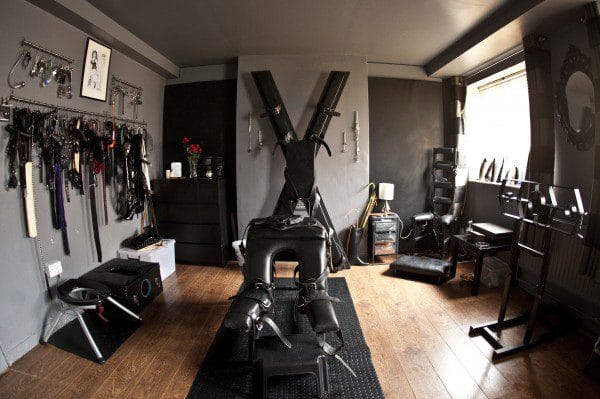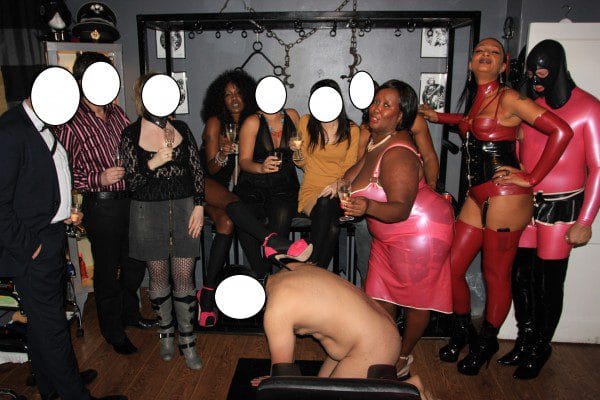 This is a unique opportunity to watch Dominants and their submissives at play and even join in if you feel the urge.
It is also a great chance to have look around one of the finest dungeons in London.
Tickets for the after party are limited to just 20 and can only be bought at the exhibition
Tickets cost £20 to cover wine, beer & nibbles.
There are only 20 tickets available so to reserve yours send an email to missdeviant2011@hotmail.co.uk
Rules of the play party
Use your common sense
Don't touch without permission.
Don't assume things. Someone maybe submissive but that doesn't mean that they will be submissive to you.
Don't interrupt.
No means no.
All play must be consensual and sane.
You now can hire beautiful uniforms designed by Miss Elaine. They are the Gucci of maid's uniforms.
Full day hire of the uniform is £50.
Ladies, if you would like advice on TV transformation for your partner, please enquire!
Fill out your e-mail address to receive our newsletter!
Recent News
Feedback
My only regret is that I did not book with more advance notice. If you are thinking about renting here, block it out as soon as possible. You don't want to miss out. I will be back soon. - Domina M (Spain) 09/10/2012
The Hoxton dungeon suite is a lavish haven for serious kink and fetish fun. The two play rooms are impressively equipped with a tantalising array of devices to suit every need of the b.d.s.m enthusiast. Training my slave over a period of two nights and a day in the suite was an absolute delight.My bedroom was clean, fresh and comfortable, I am not sure how my slave found sleeping in the cage, but then that was part of his training. I am sure to return again soon, to use the suite in an professional capacity. It certainly deserves the accolade of being a first class kinksters play-ground. - Mistress Ava Von Medisin (Norfolk) 5/10/2012 - 7/10/2012
For me Hoxton DS stands out from other dungeons I've visited. It's modern, very clean and has a really luxurious feel about it. I enjoyed my visit very much and will definitely come back again. Thank you for making my visit awesome. - Miss Deviant
Our stay at your suite was exceptional. The dungeon and vanilla amenities met all of our needs. In fact, we often struggled to get ourselves to leave the apartment and see some of London! I am pleased about the additional milking attachment....fulfills a fantasy...thanks. The only 'missing' amenity was a full length mirror....it would be nice to see myself head to toe before going out or as I watch my boi prep me to play with him. I was so satisfied, I have no other suggestions! -MM